Helping customers to reach their goals by making the best use of technology is what motivates me. I am an IT infrastructure specialist and architect with over 15 years of experience in various roles within Professional Service and now Customer Success organizations, all customer-facing. As one of roughly 300 VMware Certified Design Experts worldwide, the certification was granted to me after defending a production-ready IT-architecture solution before a veteran VCDX accredited panel with the goal of validating technical, design and critical thinking skills.
Always willing to learn and help out, I evolved my knowledge to cover infrastructure technologies (compute, storage, network, bc/dr, …), automation (e.g. terraform, python) and container technologies (Kubernetes) in the public cloud and on-premises. Starting out with Linux early in my career has provided me with the fundamental knowledge (linux services, iptables, shell scripting, monitoring, …) that is now part of every SRE/DevOps toolset. I take pride in my ability to work self-motivated and on my own initiative. As part of a team, my aim is to lift everyone up rather to stand out.
My free time, when not devoted to my family, is spent with exercising and reading.
---
SKILLS#
Designing infrastructure solutions that meet the technical and business requirements of a customer.
Providing guidance and support on implementing and operating IT infrastructure solutions.
Communicating and coordinating effectively between various stakeholders like customers, engineers and business people.
Technical#
VMware Software-definied Data Center (SDDC) / VMware Cloud Foundation (vCF)

VMware vSphere and vSAN
VMware NSX-T
VMware vRealize Suite (Operations, LogInsight, Automation, …)

Windows/Linux Server
Data center networking (ToR level)
Container

Kubernetes
vSphere with Kubernetes

Automation

Terraform
PowerShell
Python
Git
CI/CD

Data protection / Disaster Recovery

Zerto
Veeam
VMware Replication and Site Recovery Manager

Enterprise Storage
Certifications#
I hold various industry recognized certifications, please see my public profile on Acclaim for a (nearly) complete list. A few selected highlights:
Amazon Web Services#
Certified Solutions Architect – Associate
Google Cloud Certified#
Associate Cloud Engineer
Professional Network Cloud Engineer
HashiCorp#
Linux Foundation#
Certified Kubernetes Administrator (CKA)
VMware#
VMware Certified Design Expert - Data Center Virtualization (VCDX-DCV)
VMware Certified Implementation Expert - Network Virtualization (VCIX-NV)
VMware Certified Professional - Cloud Management and Automation (VCP-CMA)
Language#
---
Awards#
VMware vExpert#
I am a vExpert since 2019, please see my profile on the vExpert homepage.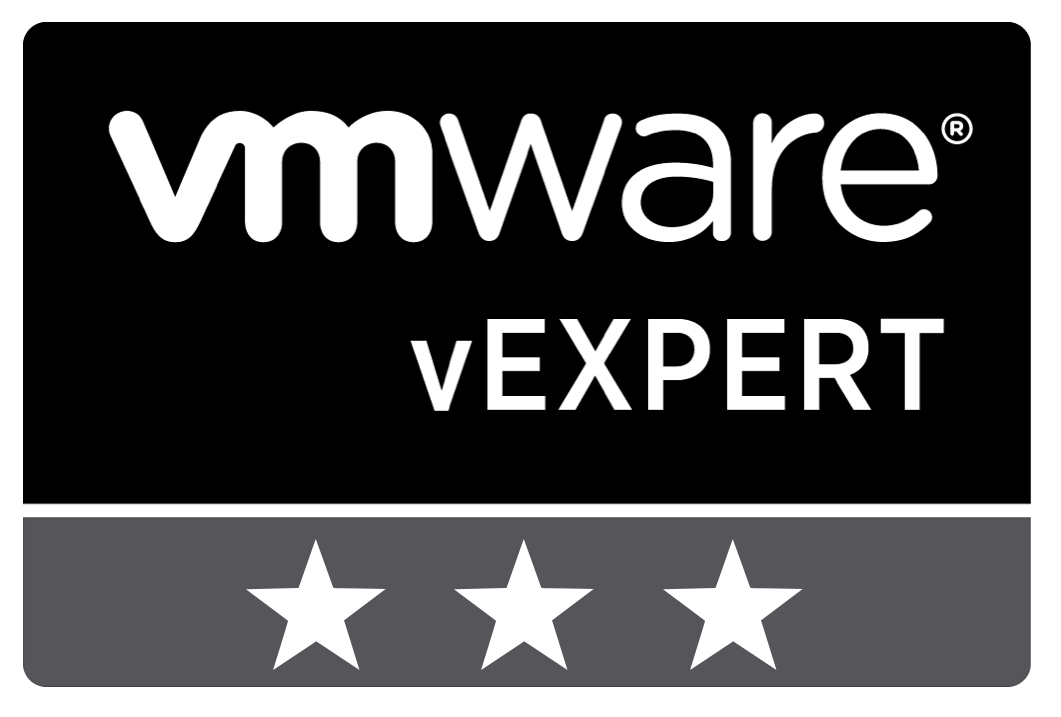 The annual VMware vExpert title is given to individuals who have significantly contributed to the community of VMware users over the past year. The title is awarded to individuals (not employers) for their commitment to sharing their knowledge and passion for VMware technology above and beyond their job requirements.
VMware EPIC2 award#
I received the Germany FY22/Q1 EPIC2 award for "Integrity", please see my previous blog post as a reference.
Integrity at VMware means:
"Integrity focuses on building trust. Employees are expected to say what they do and do what they say. The company encourages peers to build and nurture relationships with one another, customers, partners, shareholders, and the community—without taking anything for granted." – Source: https://www.vmware.com/radius/vmwares-culture-built-epic2-values/
---
Work experience#
VMware Global Inc (since June 2018)#
Senior Technical Account Manager as part of the Customer Success organization (previously: Professional Services Organization). TAMS are the primary customer facing role responsible for customer success through the management of program deliveries and strong customer relationships. Proven record of high customer satisfaction (CSAT) ratings throughout all my engagements.
Summary#
Articulate customer requirements (scale, features) and advocate these with product management teams to influence the direction of product development.
Coordinate between VMware business units, technical support and delivery for specific technical initiatives and escalations.
Organize quarterly business reviews (QBR) between VMware stakeholders and the customer
Support the customer to grow and advance the private cloud offering based on the VMware SDDC (vSphere, NSX-T, vRealize Suite)
Provide architectural guidance in terms of availability and operations design for new IT-projects
Engage with product management to provide special development plans with VMware engineering to drive product adoption.
Architect workload mobility solutions (lift and shift) between datacenters and private as well as public clouds
Design a ROBO/edge solution suitable for a world-wide distribution of modern, cotainer based workloads
Architecting Virtual Private Clouds (VPC) with Software-Defined Networking (SDN) for private Clouds based on vRA with NSX-T
dualutions GmbH (Aug 2006 - Jun 2018)#
Pre- and post-sales technical consulting for data center technologies. Virtualization design, storage design, and solution implementation including server and enterprise storage.
Summary#
Design and implement compute solutions with x86 hardware from Fujitsu, IBM/Lenovo and HPE.
Design and implement solutions using enterprise storage arrays from IBM, NetApp and Hitachi Data Systems.
Design and implement solutions based on server virtualization with the VMware software defined data center (SDDC).
Sysdat GmbH (Feb 2005 - Aug 2006)#
Member of the UNIX-team at Sysdat. Project delivery and technical support for mid-size business customers.
Summary#
Configured and managed Linux (SuSE, RedHat) and VMware ESX 2.x environments
Basic operations tasks with IBM AIX
---
EDUCATION#
University#
Cologne University of Applied Sciences

Diploma in Business Informatics (Diplom-Informatiker (FH))
Apprenticeship#
Sysdat GmbH

Apprenticeship: Specialist computer systems integration (Fachinformatiker - Systemintegration)
Higher-level Education#
Bodelschwingh-Gymnasium Herchen

Diploma from German secondary school qualifying for university admission (Abitur)